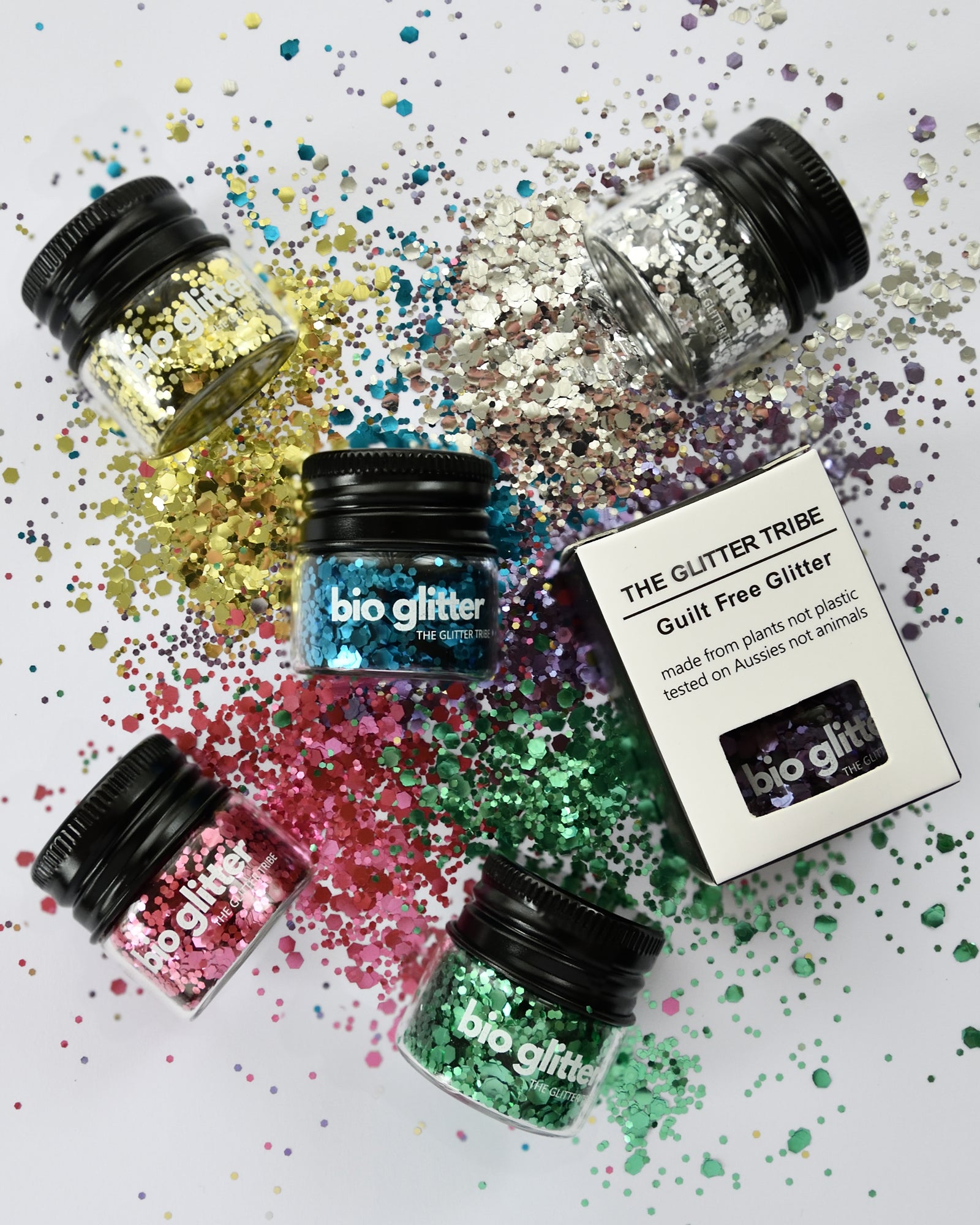 Biodegradable Glitter all questions answered
THE GLITTER TRIBE GUILT FREE GLITTER .......
WHAT IS IT?
Our Guilt Free Glitter is biodegradable glitter.
It's made with Bioglitter™ 

Bioglitter™ replaces the core polyester film used in traditional glitter. 
Bioglitter™ uses a unique and special form of cellulose from hardwoods, primarily eucalyptus sourced from responsibly managed and certified plantations operating to PEFC™ standards.
It is biodegradable in all environments; certified industrial and home compostable, approved soil, wastewater, freshwater and marine biodegradable.
WHAT IS  BIOGLITTER™  MADE FROM?
Bioglitter™ is crafted from a special kind of cellulose found in eucalyptus trees. This unique form of cellulose is carefully obtained from sustainable and eco-friendly wood pulp, following  FSC® standards for responsible production and harvesting.
Instead of relying on plastic, Bioglitter™ takes pride in using natural and plant-derived materials that are sourced sustainably and ethically.
Bioglitter™ is made in Germany.
WHERE IS BIOGLITTER™ MADE? 
Bioglitter™ is made in Germany.
The Glitter tribe mixes it with love and packages it in Australia.
IS BIOGLITTER™ CERTIFIED BIODEGRADABLE?   
YES! You'll be delighted to know that every single Bioglitter™ product has been thoroughly tested and proven to biodegrade. Through independent ISO14851 and ISO14852 fresh water testing of the entire Bioglitter™ product, including its core and coating, Bioglitter™ ensure its eco-friendliness and responsible breakdown. It's their commitment to providing you with a sustainable sparkling experience.
WHAT CONDITIONS ARE REQUIRED FOR BIODEGRADATION TO OCCUR?
When it comes to biodegradation, Bioglitter™ works hand in hand with nature's superheroes: microorganisms!
These incredible little helpers do their thing with the perfect blend of heat, water, and oxygen. What makes Bioglitter™ truly amazing is that these microorganisms metabolize it, turning glitter into nothing but carbon dioxide, water, and biomass, leaving behind zero harmful traces.  Let's give those hardworking microorganisms a big high-five!
IS  BIO GLITTER™  COMPOSTABLE AS WELL AS BIODEGRADABLE?
Great news! Bioglitter™ is a true environmental champion, being biodegradable in all environments. It has earned certifications as both industrial and home compostable, approved for biodegradation in soil, wastewater, and freshwater. 
So you can rest assured that Bioglitter™  will break down naturally, leaving no trace behind. It's like a little eco-friendly superstar that effortlessly fits into any setting!
If you would like to get down and dirty into the nitty gritty of compostability here you go ..... https://www.discoverbioglitter.com/questions-relating-to-composting/

HOW LONG DOES IT TAKE FOR  BIOGLITTER™ TO BREAK DOWN?
Nature works its magic in mysterious ways, and the rate of biodegradation can vary depending on the conditions. Think of it like a leaf in a swamp, which gets broken down more efficiently compared to a leaf in the desert.
Now, when it comes to Bioglitter™ the exact timeline may vary, as a rough estimate, it should break down within approximately 30 - 90 days, once it finds its way into nature. It's like a little countdown to a glittery transformation, leaving you with peace of mind and a lighter ecological footprint.
DOES  BIOGLITTER™  DISSOLVE IN WATER?
Absolutely NOT ! Bioglitter™ doesn't dissolve in a jar of water because it requires the help of microorganisms naturally present in the environment.
Pop it in the sea or fresh water and well.... Hell yeah it will.
Dissolving is entirely different to biodegrading.
Dissolving and biodegrading are two distinct processes. When something dissolves, it doesn't actually disappear completely; it just becomes invisible to the naked eye. A great example is salt dissolving in seawater. Although the salt granules are no longer observable, the salt is still present within the water. You might have experienced this yourself when ocean water dries on your skin, revealing the salt crystals left behind.
On the other hand, biodegradation involves the breakdown of a substance by natural processes, such as the action of microorganisms. Unlike dissolving, biodegradation leads to the transformation of the material into harmless components like carbon dioxide, water, and biomass.
So, while dissolving may make something temporarily vanish from sight, biodegradation is a more significant process that ensures the sustainable breakdown and transformation of substances into harmless elements.
IS BIOGLITTER™ HOLOGRAPHIC?
Not all colours of Bioglitter are holographic.
However good news there has recently been the development of holograpic Bioglitter is silver ...... ONLY SILVER
Guess what? we've got it in CHUNKY and EXTRA FINE 
WHAT IS THE SHELF LIFE OF BIOGLITTER™ ? 
Rest assured, Bioglitter™ is incredibly stable and won't biodegrade until it finds itself in environments teeming with microorganisms. To maintain its longevity, Bioglitter™ is supplied in a dry form and boasts an indefinite shelf life when stored properly. Just make sure to keep it in a dry, cool place, away from direct sunlight and heat sources, while ensuring it's not exposed to microorganisms. This way, you can preserve the sparkly magic of Bioglitter™ for as long as you need.
HAS ANIMAL TESTING BEEN USED IN THE
DEVELOPMENT OR PRODUCTION OF BIOGLITTER™ ?                                     
No, nor are any third parties contracted to undertake any animal testing.
DOES BIOGLITTER™  CONTAIN GENETICALLY MODIFIED ORGANISMS (GMO)? 
Rest assured, Bioglitter™ prioritize your peace of mind and transparency. In the production process of Cosmetic Bioglitter™, they strictly avoid using genetically modified materials. We have gathered information from our trusted suppliers, who assure us that none of the materials used to create Cosmetic Bioglitter™ are obtained from GMOs (genetically modified organisms). Your glittery experience is free from any genetic modifications, aligning with our commitment to providing you with a natural and trustworthy product.
DOES BIOGLITTER™ CONTAIN NANOPARTICLES?   
NO, not even in the Black Bioglitter™. The D&C Black 2 pigment we use has been carefully selected and is in non-nano form.
HOW CAN I PURCHASE BIOGLITTER™ ? 
It's oh so easy go to our website THE GLITTER TRIBE 
WHAT COLOURS DOES BIOGLITTER™ COME IN? 
The Glitter Tribe sells BioGlitter in so many different colours and mixes you can check out their collection here 
DOES BIOGLITTER™ COME IN DIFFERENT SIZES?
Absolutely! Bioglitter™ offers a delightful variety of sizes to cater to your glitter preferences. The Glitter Tribe takes great pride in mixing these and creating dazzling combo's that incorporate different glitter sizes, resulting in something fabulous. Explore the options below and discover the perfect blend that suits your sparkling desires. Get ready to embark on a glittery journey like no other!
CAN I PURCHASE BULK BIOGLITTER™ ?
Of course!
If you're looking for an extraordinary amount of guilt-free glitter in your life look no further.
We welcomes bulk orders with open arms.
At The Glitter Tribe, we're here to make your sparkle dreams come true.
Contact us today to get your sustainable shimmer sorted.
 DO YOU HAVE A QUESTION WE HAVE NOT ANSWERED?
ASK US  HERE  
OR EMAIL US hello@theglittertribe.com.au
We don't want to overload you with info  
BUT ...........
If you're interested in the testing and certification process see below.
Biodegradablility and certification what does it all mean?

TÜV, Austria, '
OK biodegradable WATER' Certification
Products certified for OK biodegradable WATER are GUARANTEED by TÜV to biodegrade in natural, freshwater environments and thus substantially contribute to the reduction of waste in rivers, lakes or any natural freshwater.
This is the highest level of independent certification for fresh water biodegradability in the world.
Criteria required to be satisfied to be awarded OK biodegradable WATER certification status:-
 1 Biodegradation
Passes Fresh Water Biodegradability testing

Tested to ISO14851 and ISO14852 Fresh Water Biodegradability testing standard
Achieves >90% biodegradability vs control (microcrystalline cellulose) in <56 days
Triplicate testing to certification testing protocol
Meets the biodegradability requirements of EN14987
Tested conducted by an ISO17025 approved laboratory
TÜV verification of testing standard, testing protocol, test data and approved test lab status
2 Ecotoxicity
Passes Aquatic Ecotoxicity Analysis

TÜV verification of product data, source of data and that data meet ecotoxicity requirements
National Geographic name Bioglitter™ as one of their 4 favourite Innovations